Bodhran repair
I bought a bodhran (Irish drum) at one of the regular instrument yard sales held near Powderhouse Circle in Somerville. (If you don't know about these, keep an eye out for posted flyers in Davis Square!)
It sounded great, but after I had taken it home I saw that the skin wasn't taught in one area. It turns out the skin was beginning to tear off of the tacks. Stupid cheap Pakistani bodhrans!
But after a little research, I realized that there was something I could do. I wet the skin a lot to loosen it, and then I stretched it in the right direction with pliers and pinned it in place with good old-fashioned thumbtacks (green, for Ireland!). The original tacks alternated left and right as they circled the ring, so I just put the thumbtacks opposite them.
Now it's working great! I wish I had thought to take a "before" picture, but this is after: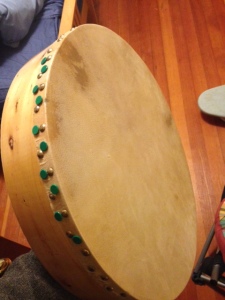 Don't know how long it will last, but it looks pretty solid and I'm keeping it in a humidified room, so I'm optimistic.